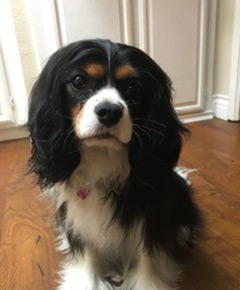 Dixie
If you have a furry family member in your home, you will find this guide very helpful. From scratch-resistance to easy-to-clean, we can help you discover the pet friendly flooring that works best for all the rooms in your home.
Did you know that more than 6 in 10 of all households in the US have pets? If you're one of those 6 in 10, you are very much aware of the challenges that come with having an indoor pet. Even if your pet is only allowed indoors part time, pet friendly flooring is essential.
One of the biggest challenges concerning pets and flooring is scratches, this is especially troublesome when your pet's nails are untrimmed. Even pets that don't deliberately scratch, may still cause scratches just by walking, jumping or running about.
Shedding and occasional accidents are other things that can be a challenge for pet owners…But no need to worry, it is still possible to keep your home and floors beautiful. All you need is the right type of flooring.
We hope that the following information is useful in your search for the best pet friendly flooring for you and your furry friends.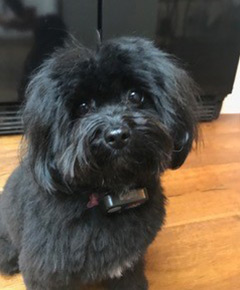 Zinnie
Which Hardwood Floors are Best for Pets?

We all love hardwood floors. This is a flooring type that most will select for their home, but when you have pets, particularly dogs, there are a few things to consider…The best hardwood option for pet owners is a harder species. You may want to select oak or hickory with a distressed look along with a tough Urethane finish. This will help to hide the day to day wear and tear pets bring. However, due to hardwood being cold, slick and prone to scuffs, it is probably not the best dog friendly flooring option.
Which Laminate Flooring is Best for Dogs?

Hardwood may not be the best flooring for your home as a dog owner, but thanks to innovation in modern manufacturing, laminate floors can provide the same great look of hardwood while also delivering more support and comfort to your pets than hardwood could.
Laminate is composed of 4 layers that absorb the heavy traffic and day-to-day use of an active family. The layer that is created for wear, protects the floor from pet stains, fading, and surface burns, making laminate wood flooring and dogs a great pair.
With an easy to clean and water resistant construction, with laminate flooring, pet accidents are no longer a problem.
Please be mindful that the slippery surface may cause your dog to have trouble with grip. However, adding rugs to a room with laminate floors can make it look cozy, complete and comfortable for your pets.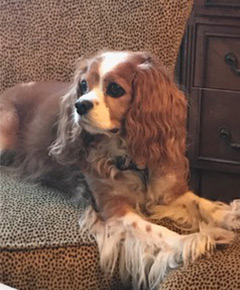 Charlie
Is Luxury Vinyl Flooring Recommended for Pets?

Pets are not perfect, just like humans, and can sometimes be messy. For pet owners who are also accident prone, vinyl flooring is a great choice.
Not only is it waterproof and durable, but is also very easy to clean when accidents do occur. Vinyl's protective top coat makes it easy to maintain, which means that your floors will be resistant to scuffs, scratches and have a wipe clean finish. The rugged versatility and waterproof characteristics make vinyl flooring and dogs a good match.
Which Carpet is Best for Pets?

There are many that believe pets and carpet don't mix and that the fur and dirt that comes from pet fur can get trapped in the fibers, or that accidents are difficult to get out. These are a few things we hear a lot, but there is in fact carpet for pets that can resist stains and accidents.
For pet households, it's best to select a carpet with nylon fibers, as nylon is the most stain resistant and durable carpet fiber, and when­ treated with stain protection, it is the best carpet for pets and high traffic areas. Carpet that has been treated with static, stain, and soil resistant treatments, makes a good choice for homes with pets and are easy to clean and maintain.
Which Tile is Best for Pets?

The best flooring choice for a household with furry family members just might be Tile. This is due to its moisture resistance, long wearing durability and ease of maintenance. Tile is also easy to clean and resistant to scratching, making it a sensible option; just keep in mind that it can be slippery, cold and hard for both pets and humans.
When deciding on the best flooring for your family and pets, you will want to consider how easy it will be to clean messes, and how comfortable it will be for you and your pets. Regardless of the flooring type you choose, there will always be a product that is more suitable for pets than others, so if your heart is set on hardwood, it's not impossible. Just be sure to speak with one of our flooring professionals so that you are equipped to select the best and most suitable product for the unique way you and your family live.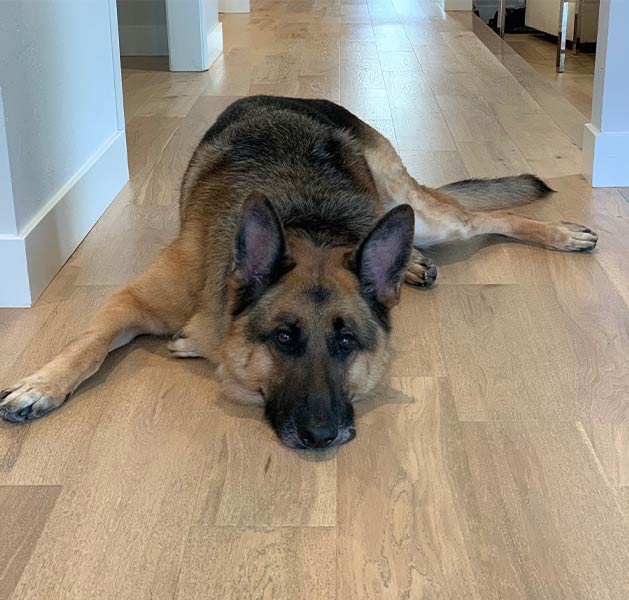 That face tho Mr. Hobbs is enjoying some down time on these gorgeous hardwood floors called Urban Floor, Cartland Manor European Oak Floor, and the color is Avon. So many of our customers can be so worried about putting in hardwood floors with big dogs. It can work well if you choose the right floor! Let us help you find the perfect flooring for you and your fur babies!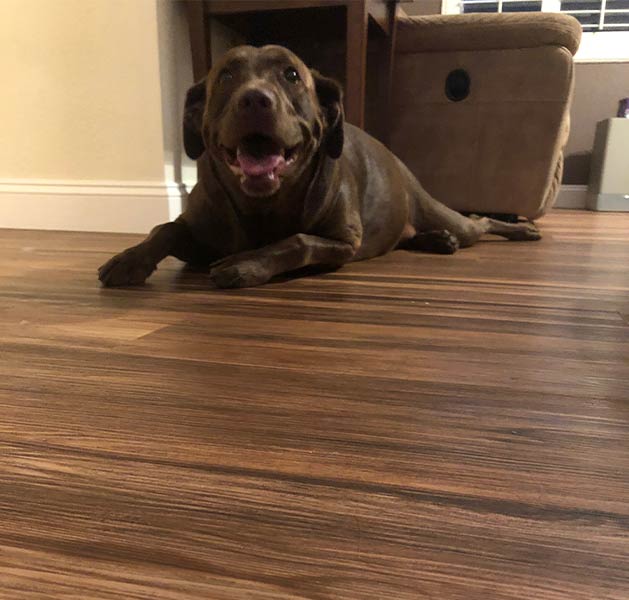 Here is gorgeous Miss Daisy on one of our customers Shaw Floors Floorte Largo Plus Plank (Color ~ Caplone)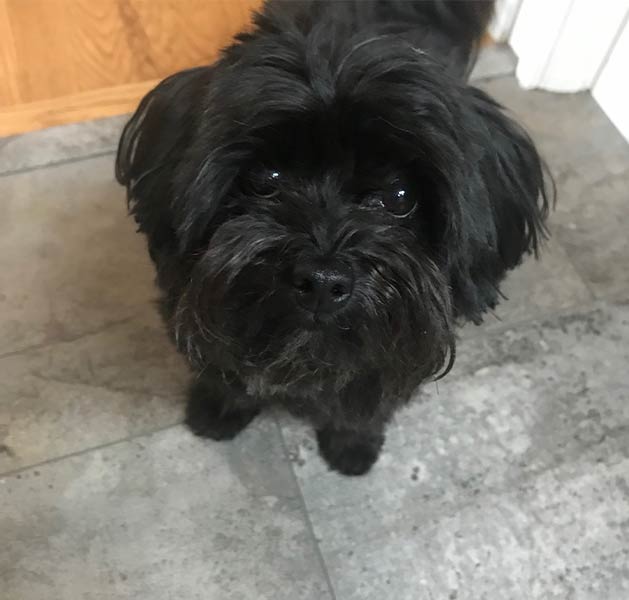 Zinnie Girl on Shaw Floors Resilient LVT tile, style Set In Stone, Color - Slab.